My friend Nikki and I left Friday morning around 9:30am dropped her husband off at work and headed for the open road. Arriving in Toronto around 10:45am Lyndsy text me and asked if we can change our meeting time from 3pm to 4pm because she was busy doing things early in the day, and mentioned she she had a dinner meeting at 7pm, but we could meet at the studio about 4pm and she would give me a tour.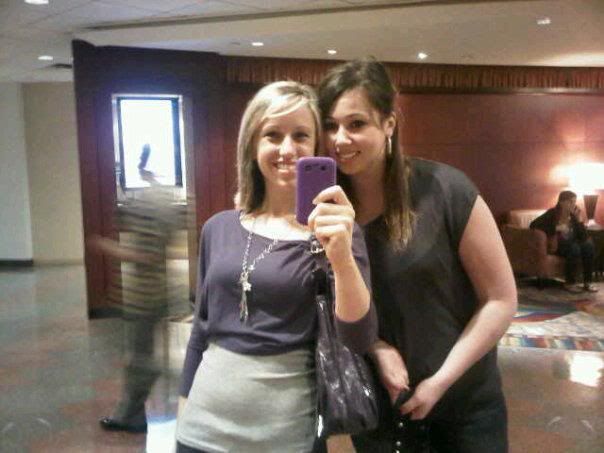 Nikki and I spent the day roaming around Toronto getting lost and taking photos haha. It was fun (until we got back last night and realized all those photos have some how gone missing off my camera??)
<>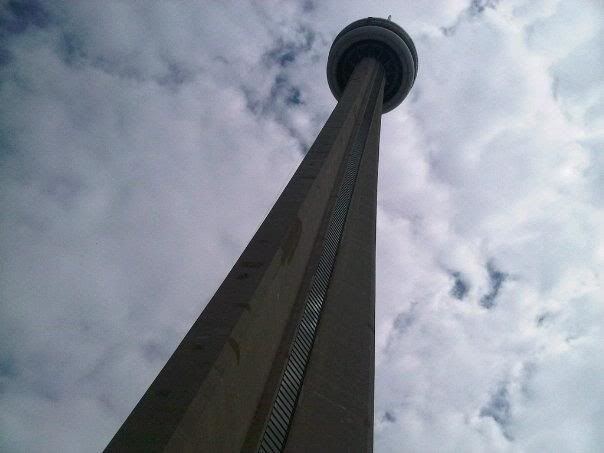 At 3pm we decided we better head towards the studio because we wern't sure exactly where it was but the GPS lead us right there! Around 3:30pm Lyndsy text me told me she was at the set and I could come anytime. I told her I was almost there.
There was a little confusion about where to park and where to find Lyndsy so she phoned me up to give me instructions.
Nikki and I headed towards the building and Lyndsy and her sister Hannah were outside with one of the producers and a cute 14 week old puppy! After hugs and introductions we played with the puppy a bit we headed inside to see the set….
*side note: There was no filming on set that day, the other cast and crew were over an hour away shooting,Lyndsy had the day off.*
The lights in the studio were very dim but I could still see. First I saw the room where they film any type of hospital scenes, it was basic, just a hospital bed and some other things, I didn't think to take a photo of it sorry!
Next I saw what we are all familiar with the set where they film all the stuff where Alex would type to Nikita. Guess what…the computers are fake!!! Anytime they film something where they are typing, they pretend to type. There is a guy up in a booth who types out what they are saying and later it is edited and put on the screen! I asked Lyndsy about how her voice comes over the speakers in a computer type sound, she told me that is recorded after at 3 different frequencies.

Right beside the computers is the area where the famous "car scene" happened. The car is not there anymore, but it was neat to see it. Beside that is where they have the mats for when the recruits "train". I really wanted to get a photo of myself pretending to train so Lyndsy showed me a punch to do and took a photo of me doing the punch. Here is the photo (no laughing)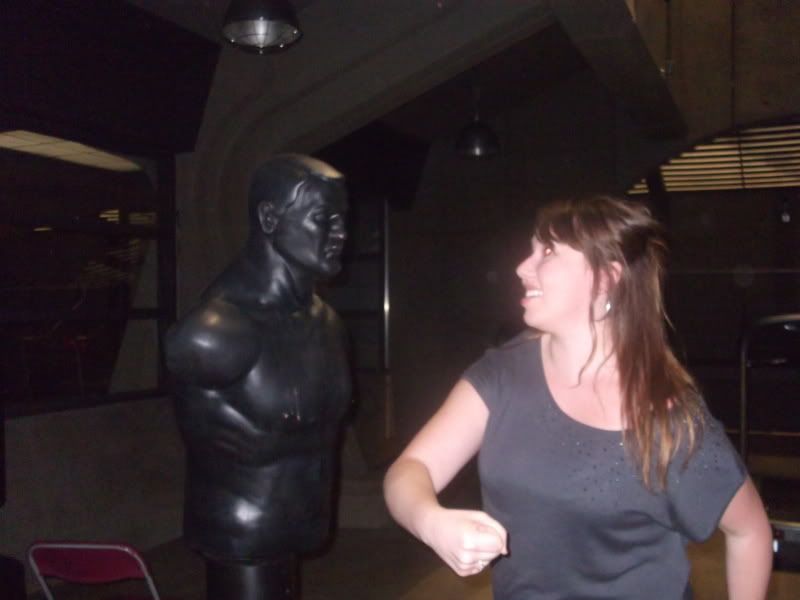 Alright you know all the concrete you see on the show? The walls and everything? It's not real either!! It's harder material but Lyndsy told me to knock on it, and it deff wasn't concrete LOL
Here is another set, set up as an apartment
This is me sitting at the computers you see in the above photo. Right at the computer there was a little cup and it was filled with those sour worm candies, so when your watching an episode and you see him sitting there typing, remember between takes someone is snacking on sour worms!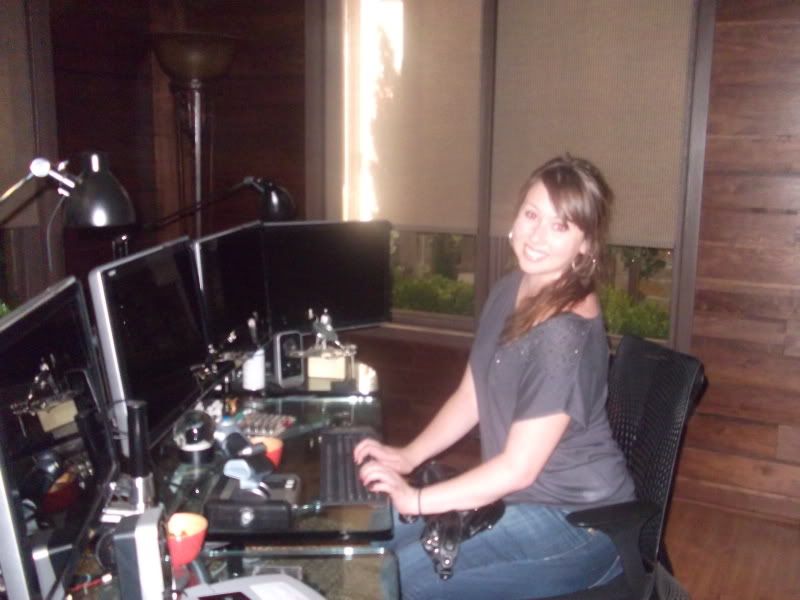 The next room I saw is a secret! It's a pretty big deal according to Lyndsy, so I can't post a photo of it, but as soon as the episode airs I will totally post photos of it. Lyndsy took photos of me and my friend on that particular set.
*side note: It is boiling hot in the studio and they can't film with air conditioning because it effects the sound!*
Suddenly we heard someone calling Lyndsys name and it was Lima (Lyndsys mom) and Lyndsys aunt (I won't post her name for privacy reasons, I haven't cleared that with her), they brought a special guest…..ROMI!!!! What a little diva she is! Soooo cute, here is a photo we took when Romi arrived….
We went back to show Lyndsys family (who is visiting for a few days) the newest set and Lyndsy took some photos with her phone of Romi hanging out there. (I'll see if I can get her to tweet that photo after that episode airs) this is also the area where Nikitas apartment was, but obviously it's a different set now since Nikitas apartment blew up.
Next we were off to Russia! Ok not really, but I saw the Russian offices haha here it is…..
Now I forgot to mention that the hallways that we walked up and down to get from set to set are actually part of the filming, every time you see them in a long concrete hallway with black doors and round windows behind each of those doors is a different set!
Next we walked past the lunchroom, where the cast and crew eat lunch. Again I should have taken a photo for you guys but I didn't think of it. It's just a regular looking room kind of cafeteria style. Beside their lunch room is the lunch room for another television show that films in the same building. Lyndsy joked about how the Nikita lunch room is so plain and the other shows is nicer because they have table clothes. I told her she should decorate theirs.
After the tour we headed upstairs to the offices where the producers desk is and the writers. It looked like a regular office but there were mailboxes on the wall with the words Nikita on them and each actors name.
We were standing there chit chatting and out popped Albert Kim, he is one of the writers on Nikita. I couldn't think of his real name so I said "MAGICBRANCH"! (his twitter name). I think he may have thought I was crazy but its all good LOL. Lyndsy gave me a Nikita poster signed by Maggie and she signed it as well, and gave me a photo of herself as Alex and signed that for me as well.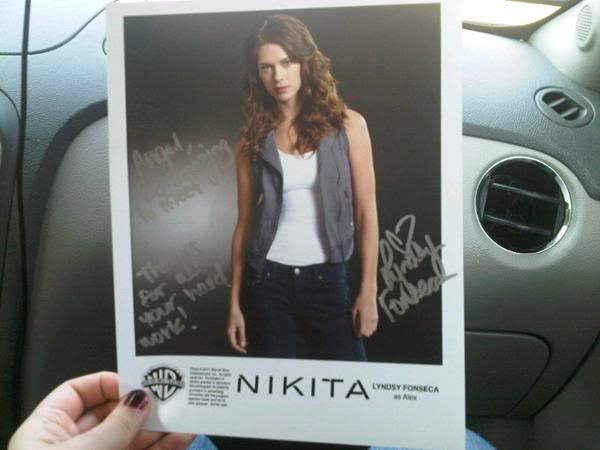 Lyndsy's Russian tutor was there and took her phone and repeated into the phone how to say certain words in Russian and gave her a paper with the words on them that she needs to learn. (I tried reading it, I suck at Russian). I asked Lyndsy how long before an episode do they have to memorize the script, she told me they get the script about a week before they shoot the episode BUT they are shooting the current episode so have to remember the lines for that episode plus learn the lines to the newest episode. Lyndsy got her script for episode 5 while I was there too.
After all that, Lyndsy, her family, my friend Nikki and I sat on the steps and hung out a bit, I couldn't think of any on the questions I wanted to ask! So most of it was general chit chat. Being a girl a question I did remember to ask was if she was wearing extensions in the Maxim photo shoot, the answer was no it's all her hair haha. (she has the thickest hair I am jealous)
We went outside after took a few more photos and then it was time to go! Lima (Lyndsys mom) thanked me for opening "Hannahs Corner" (which we will be improving very soon so keep checking back) and we all gave hugs and that was the day!
Lyndsy and her family were just the sweetest people ever. Lyndsy talks to Hannah so sweetly, you can tell they are very close. I actually asked at one point if they are always that nice to each other because I have never seen siblings that talked so kindly to one another haha.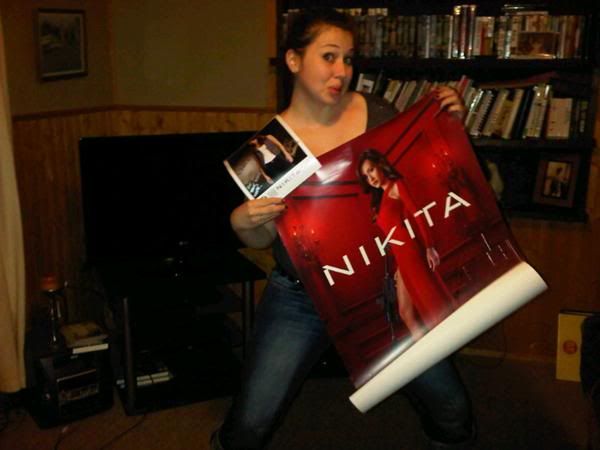 I hope you enjoyed reading about my experience! If I remember anything else I'll post it, if you have any questions feel free to ask, I'll answer what I can.
To see any of the photos I posted in higher resolution head to the Gallery
Love ya
Angel